Let's explore each nook and cranny of a Living Room to find the perfect Balance
"Let's sip the tea, have a laugh, sway the worries away in a comforting abode of a living space"
The living room is a special place in the whole house, which makes a house a home. Family members together having quality time in the living room lightens up the whole atmosphere of the home. There are multifold effects about a home that design is as important as the personality of its possessors, or the home's glamor, and yes, livability, like the living room. This is true for a good sort of reason.
Some things to consider while thinking about a living room of your home 
Should the home size be in consideration while looking up at a living room?
The perfect house size is one in which you feel comfortable and cozy while also having a high utilization of space. Loving the place where you lived. Big houses offer more bedrooms, bathrooms, living spaces, and bonus rooms like a home office, crafts room, playroom, or game room. Small houses are often affordable to heat, aesthetic, furnish, and maintain, and easier to clean.
What should be the average living space of a living room?
For a family of 4 to live comfortably and happily is around 2400 square feet. It is widely considered that each person in a home requires 200-400 square feet of living space. The average cost to build a home of that size will range at least between $147,000 to $436,000
Keep in consideration what you want to do to glow up your living room 
Decisions should be made after deciding whether to work on furniture or to add a touch up to accessories to fascinate the living area
Furniture for Square Living Room 
After being decorated well, square living rooms can function well as the focal point of a home. Rooms with square geometry command visual attention, if they are visually balanced and strategically well decorated with the right pieces of furniture with the right color combo. The right layout for a square living room is, 
But finding the best furniture, accessories, and arranging them in a square living room can be a challenge. To avoid making the room unbalanced and overcrowded, more care is needed when selecting and placing furniture. By default, the selection of furniture that goes well in square living rooms is somewhat very limited
It would be tough to work out what quantity area a family might need. However, isn't that much onerous after you involve the whole family. As a final note, it is inspired to see the members of the social unit concerning their desires and needs in terms of space.
Confine thought what you would like to try and do to glow up your front room selections ought to be created when deciding whether or not to figure on an article of furniture or to feature slightly up to accessories to fascinate the living area article of furniture for sq. front room when being embellished well, square living rooms will operate well because of the attentiveness of a home.
Also if you are a fan of country style living rooms, this article be super helpful Super unique and useful ideas to decorate your living room French Country style
Rooms with square pure mathematics command visual attention, if they're visually balanced and decorated with the correct items of furniture with the right color combo. However finding the most effective furniture, accessories, and strategically transcribing them in a very square living room may be a challenge. To avoid creating the area unbalanced and overcrowded, a lot of care is required when choosing and inserting furniture. By default, the choice of an article of furniture that goes well in sq. living rooms is somewhat limited. You can also explore some outdoor furniture options that might go perfectly well indoors, with this article How to Buy Outdoor Furniture That Lasts 
 The Accessories for Sq. Living Room 
Living room accessories are the final touches for a sitting room, lounge, or similar living space. From clock to rug, candle holder to vase, and wall art to storage basket, accessories, and soft furnishings are key to an aesthetic living room scheme.
Furniture for "L" Shaped Living Room
An L-shaped living room can be a bit tricky while decorating. It can also become a true headache when you try to arrange the furniture. However, there are certain tips and creative ways to change your L-shaped living room into something that is both functional and expressive of your style. A perfect layout for an L-shaped living room is as follows. 
Accessories for "L" Shaped Living Room
Use correct lighting
Lighting is always a very critical factor in decoration since any misarrangement of furniture can cut out the natural light and cause a poor design. If you have huge windows and natural light coming in, then you are lucky. You use light and semi-transparent curtains to let the light in as much as it is possible. This will make the room feel wider than it already is. In addition to your living room, you can light up your bedroom easily with this article, 8 Stunning Tips to Light Up Your Bedroom In Style
Separate different areas
The L-shaped living rooms are a combo of living and dining areas. You may desire to separate them into two spaces using a divider. Most commonly, homeowners use the longer rectangle section as a living area and the shorter end of the room as an open area or dining area.
Creating 2 separate areas in "L-shaped" rooms is easier than you may think. You can use a modern long bookcase or a traditional screen divider (s). Another direction is to create a half-wall to divide the spaces. Whether it's a square-shaped or circular or L-shaped living room, plants and greenery make up for the best accessories. You can explore some of the best options for indoor plants with this article How I achieve a traditional accent with faux traditional plants 
 Arranging furniture in a "rectangular" living room
There is no right or wrong to organizing living room furniture because a lot depends on the desired function! First, think about how you want to use the rectangular space. Often inviting friends over or a formal chat or, most importantly, relaxing and watching movies with the family? Do you love a room where you can sit down in front of the fireplace in your living room? Or, you probably want to assimilate a work area s your home. Office? The list goes on and on.  
Once you understand the function of the living room, it's time to start thinking about how to organize the furniture in the room. The sofa part is a great choice for creating chattering circles in open living rooms. The perfect layout that works for a rectangular room is, 
Living rooms can benefit from an arrangement with a sofa on one long wall and the TV on the opposite wall. For a small living room, consider using stools and benches as extra seating that doesn't take up much space. If you are looking for some suggestions for the furniture for your rectangular living room, this article might be the best thing Tips For How To Pick The Perfect Accent furniture
Once you have an understanding of what the function of the living room will be, it's time to think about organizing furniture in the space. Section of sofas is a good choice for creating babbling circles in open floor plan living rooms. Long and narrow living rooms can benefit from an arrangement with a sofa against one of the long walls and the TV mounted against the opposite wall. For a small living room, consider using Ottoman and benches as additional seating that doesn't take up much space.
Possible floor plans based on living room sizes
Small living room 
An area approximately 10 x 13 feet (3 x 4 m) would be the best size. 4 or 5 people can sit on a 2-seater sofa and chairs (or 2 2-seater sofas). This arrangement would allow 2 or 3 people to comfortably watch TV when pulled up against the wall behind the sofa.  
Medium Living Room 
An area comprising ​​12 x 18 feet size (about 3.7 x 5.5 m) should be able to accommodate around 6 to 10 people in a conversation area with about  a corner of the fireplace wall than above the fireplace) There is space in medium-sized living rooms for 3-seater sofas. To accommodate 10 people, you must have the discussion area so the people in the living room can have decent chit chat and meet and greet.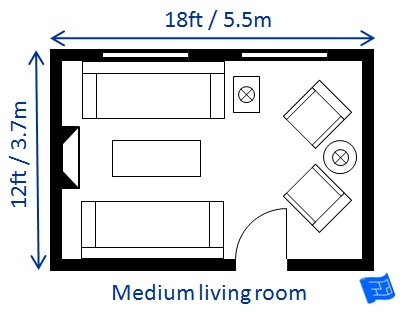 Large Living Room 
If you are fortunate enough to have a living room measuring more than 4.6 x 6.0 m, the option is to move the sofas away from the walls, with sofas that are deeper and more elegant, and create Groupings of secondary furniture. Take a look at the living room layout page to see some of the opportunities. 
 In a spacious living room, it is better to add extra furniture or seating (such as a game table or desk)  than to increase the space between your eats and make the conversation area uncomfortably large.
Aside from flooring your living room if you are thinking of flooring your basement, this very article has everything in it Do you have a Basement? Let's explore the best Options for its Flooring
Here are some suggestions to follow for a balanced Living Room
Some tips to keep in mind are to arrange a balanced and well-equipped living room.
What should be the difference between the walls and furniture
At least 30″ to 36″ of a walkway between wide furniture pieces (if your living room allows for it) if not then should be 18″-24″.
Table "n" cabinets
There must be a distance between the table and the walls. It is recommended at least 36 inches between the edge of the table and other furniture or the wall. There is enough room for someone to walk behind the chairs or open a door on a cabinet.
Rug "n" Walls
You should leave at least six inches between the end of the 'Rug' and the 'Walls' (or counters, in the case of kitchens); leave all furniture legs off rugs in busy thoroughfares like entrances and hallways, and let the space enact your choice of rug size.
Walkways Spacing
The recommended minimum width for walkways is "3 feets" inches. Walkways can be as wide as you desire. 
Don't overcrowd the walls while arranging pictures
While arranging the three pictures close together in a triangle formation, with two on the left side and one of the right sides in the center. A creative grouping is ideal for pictures that aren't the same size too. For a creative grouping, 2 in (5 cm) works well between each picture.
Carpet "n" walls
You must leave a space of at least 15 cm between the end of the 'carpet' and the 'walls' (or counters, in the cas9e of kitchens); In busy avenues such as entrance areas and hallways, let all furniture legs out of the carpets and let the room represent the size of the carpet you have chosen. 
Distance Between Walkways
The minimum recommended width for walkways is "36" inches. The sidewalks can be as wide as you want. Wall decorations and pictures vary depending on the layout and tastes of the organizer.
When deciding where to place your pictures in your home, you should consider the available wall space and room layout. Use small parts between windows and doors.   In general, you can cover 60% of the area with wall decoration and you should leave 40% of the area blank. This rule also applies when hanging a  painting or group of frames behind your sofa.   When arranging the pictures don't clutter the walls. 
When arranging the three pictures in a triangle formation, with two on the left and one on the right in the middle. Creative grouping is ideal for images that are not of the same size. For creative grouping, 5 cm (5 cm)  between each image is good.  
Color contrast to be considered 
Contrasting colors such as blue and yellow make the best combinations because they have good contrast in tone and value. Black contrasts well with any light value color, and white is a good contrast with colors. Dark value yellow and black differs, for example, in color and value.   Choice of colors for decoration  At least 60% of the living space must be a dominant color, 30% must be a secondary color and 10% must be an accent color. Choose dominant and secondary colors that you are particularly comfortable with. Be aware that your choice of dominant color has a big impact on the feeling of space. 
Aside from the colors of the living room, if you want to paint your kitchen, some of the important points are huddled up in this article Planning to Paint kitchen cabinets? How much does it cost? + tips and FAQs  
Experts' Advice 
The living room is an area shared by everyone and loved by everyone for an evening tea or morning cereal. It's the first place your guests would see and it has to be perfect to perfectly translate your taste and class. Let's give these easy and important tips and tricks to get your living room the best size and decor. Happy living, in the living room!